We Read Too: Creating a Central Resource for Books by PoC
Sept 16, 2017 at 1:30pm
Transcript
KAYA: Hi, everyone! I'm so happy to be here and chat with you about We Read Too. I want to start off with this quote: "We read to know we are not alone." I believe reading can be a transformative and self-affirming experience, especially when you see yourself reflected in the writing. But unfortunately not everybody has the same opportunity to see themselves so represented through the pages. So these are five of the most popular young adult books in 2009, the year I turned 14. I've read all of them. If I Stay, Along For the Ride, City of Glass, and Beautiful. But unfortunately all the female protagonists are white girls. In 2016, out of 3,400 children books published in the US, only 12% were written by people of color. And there are oftentimes more books written by white authors featuring characters of color than authors of color who are writing about characters from their same background. So my reading journey started long before 2009. You can see baby me with the book. I've loved books ever since I learned to read as a toddler. I'm from New York. My parents are separated. And I was raised in Harlem and Staten Island.
AUDIENCE MEMBER: Woo-hoo!
KAYA: Yeah, New York! And they worked really hard to try to find books with Black girl characters. They oftentimes would have to go to local bookstores, often in Harlem, where they would find local authors who were creating these books. Self-published. Right? But as I got older, I was finding my own books. Barnes and Noble, Borders, the local library, and the books I found often had white characters. As I got older, this started affecting my self-esteem. I started wondering... Am I invisible? Are my stories not important? Do I not matter? Why are not authors writing stories with girls like me? This is how I got the idea for We Read Too. In high school I would chat with my other Black girl friends and say I wish there was one place I could go to and find books with girls like us. But in high school I had no idea how to create a resource like that. That I could even possibly create something like that. But fast-forward to college. I learned to code. I started studying computer science and realized now with my newfound skills I could possibly create something like this. And trust me, before I created this, I researched hard. I said... There has to be something like this out there, right? I know that someone has to have made this. But there isn't! A lot of times, I found blog posts here and there. 10 books by a Latinx author! You know, read these 20 books by a Black author. But there was nothing centralized, where you can find characters who are of Asian, Latinx, Native Indigenous, and Black descent.
KAYA: So how did We Read Too get started? As a Word document. I literally found all these books and put them into a Word document. And once I got to around 300 books on my list, I said, "Okay. I think I'm ready to create this into something." And in the summer of 2014, I was doing a mobile development internship in the City, and I realized I could create a mobile app, where it could just be a directory where you could easily look on your phone and find these books. So I took those 300 books that were in a Word document and put them into a database. And then, with my newfound skills I was learning from my internship, I created an app. Now, when I launched that app, summer of 2014, I had no idea on the impact that it would have. I figured that maybe some teens would use it. Maybe some parents would use it. And find some books for their kids. But it's gone way beyond that. Here you can see a tweet from Nicole Sullivan, who said: "I'm raising a child. Trying to do it right. So I buy books with Black, Brown, and white characters, boys and girls as the heroes." Most of these books came from friends, research, and We Read Too app and Amazon. And another purpose, Sara Murray, who is a teacher: "Thanks, We Read Too app, for the help of finding these excellent new additions to my classroom library." And that blew my mind. Because I'd never realized that We Read Too would affect educators and librarians and their experience on finding books for the youth in their communities. I realized that it was having a great impact, because not only are children of color now finding these books more easily, where they're represented, but people in communities where there are less children of color are also exposing white children to different stories, which they need to be exposed to, at a young age. We Read Too is also impacting young authors. I got an email from a Black mom in London, who said: "I'm just a working mom, but I created this children's book and the characters are based off of my own children and the book is about their relationship with their dad. And I self-published on Amazon, but I don't have any resources for marketing or getting my book out there to an audience. If you could please put my book in your app, maybe more people would discover it." Right? I had no idea the effect I was having on authors of color who don't have the resources to market their books and have an audience for their work. So through We Read Too, I'm also highlighting the work of authors who don't have the opportunities to so easily get out there to a large audience, because their books are not the books that are shown in Barnes and Noble, or Amazon's best seller website. So I'm working on We Read Too. It was great!
KAYA: But I was working alone. And after a time, I was really struggling, because I knew that I needed to do more. There was more to be done and I needed to get We Read Too out there to more people, but I didn't know how to ask for help. So I talked to my friends and they said I should launch an Indiegogo campaign. And I was nervous, because crowdfunding can go well or it can go terribly. And I saw so many times that there are a lot of Black women who are working on amazing projects, and they might get the visibility, but they never get the monetary support. So I was nervous that if I asked people for money, they wouldn't think that my project was worth while to actually contribute to monetarily. But thankfully, I was able to raise $15,000 through IndieGoGo, which was $5,000 more than I was hoping to raise. And because of that, now and next month we're launching the Android version of the app. So I'm so excited about this. Because I know iPhones are not accessible to everyone. They're incredibly expensive. iPhone X -- $1,000? Really?! And they're not accessible. And I know Androids are more accessible to people in lower income communities. And I know that I need to have the Android app. And people have been asking me for such a long time. But as an iOS developer, I just didn't have the skills and resources to do that on my own. But through the campaign, I was able to raise money and hire an Android developer. I was also able to hire an illustrator and UX designer who helped me to make the actual app more accessible and more easily discoverable for the books that are in the app. I talked to a lot of librarians and educators who told me time and time again that I needed to re-categorize the books in the app. Currently there's just children and young adult. But having such broad categories makes it difficult for an educator or librarian to find specific books for the categories they're looking for. Now it's picture books, chapter books, middle grade, and young adult, so people can more easily find the category they're looking for, for the age of the youth they're trying to find books for.
KAYA: Now, although We Read Too is increasing the discoverability of books by people of color, it's not solving the real issue at hand. And the reason why I wanted to talk about this is because, as being someone who is in the tech industry, I see time and time again that the tech industry has a savior complex. This idea that they're creating tech that is saving the world. But the reality is they're not. Most times, they're forgetting the actual root of these issues. Right?
(applause)
KAYA: They're forgetting the root of the problem. An app is not gonna save the world. One tech project is not gonna save everything. You have to really look at the root of the issue, and then try to solve that. So I'm not trying to contribute to that problem that tech is making so prevalent today. I know that We Read Too is an app. Although it's increasing the discoverability, it's not solving the real issue. And the real issue is that authors of color need more access to the publishing industry and opportunities to be supported in their craft. Because our stories deserve to be told and they deserve an audience. So many authors of color tell me I don't know how to get out there. I don't know anybody in the publishing industry, or I went to a publisher and they pretty much told me, "Well, we already published a book with an author of your background this year." Right? Where they're not seeing that their stories need to be out there. Right? They're thinking that, Oh, it's a Black author. They're gonna write about "Black" issues. We've got somebody already doing that this year. It's not about that.
KAYA: As we see, time and time again, the content that people of color are creating spreads virally! You know, everyone can relate to it. So it's not just about... You're reading something just because it's someone from your background, but everyone can relate to it, and these stories deserve the opportunity to get out there. So this is the real issue. And this is the issue I hope that we're able to focus on. And with We Read Too, I hope people are seeing that these stories exist, they have existed for a long time, and they deserve to get out there to the world. Thank you.
Kaya Thomas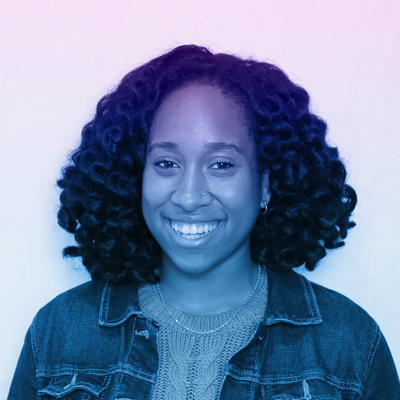 Kaya is an iOS developer and writer. She created We Read Too, a mobile directory of books with main characters of color written by authors of color. Kaya has written about technology & inclusion in various publications such as TechCrunch, Fusion, and Model View Culture.